Often people ask me: what magazines do you use for your collages? And my answer is always: Anything! From cheap, weekly women's magazines (for my Dutch readers: Libelle en Margriet) to more expensive glossy's like Cosmopolitan and Elle. But also brochures, Tv-guides, magazines about gardening, flowers, animals, etc. Mostly I get those magazines from a small network of family and friends, who give them to me after having read them.
Most of the times, the next question is: But how on earth do you create those fabulous collaged images?
In the next video I tried to capture a part of this proces. As you will see, I started with something completely different than with the image I made at the end. This is what happens to me most of the times, when I'm creating collages! Which makes it so hard to film this part, because I'm constantly shuffling with the pieces, adding more from my stash of cutouts, cutting parts of the cutouts, replacing them, etc....
I hope this video shows you a peek inside my brain:
And here is the page I created with the image. I made it in my new 'Dyan's Journal'. I love this journal!!! The background is made with Dylusions sprayinks and Dyan's ghosting technique.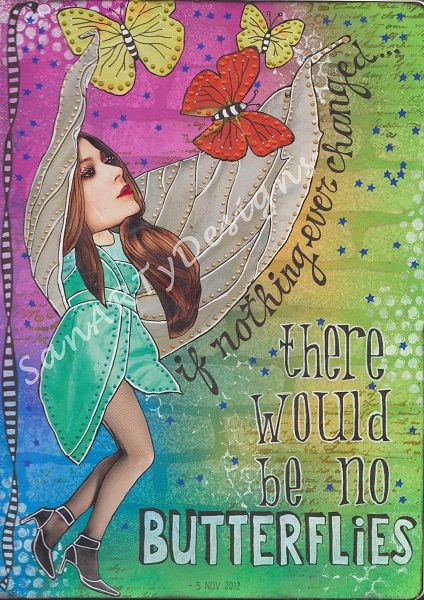 TFL!
Sandra