dinsdag 15 januari 2013
Still going on strong....in every day life and in art journaling.
Here are some more pages: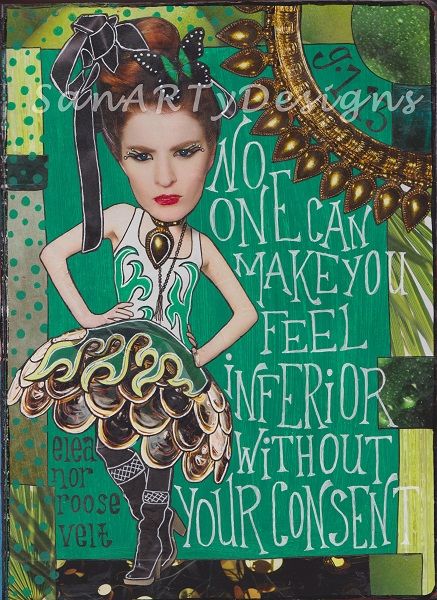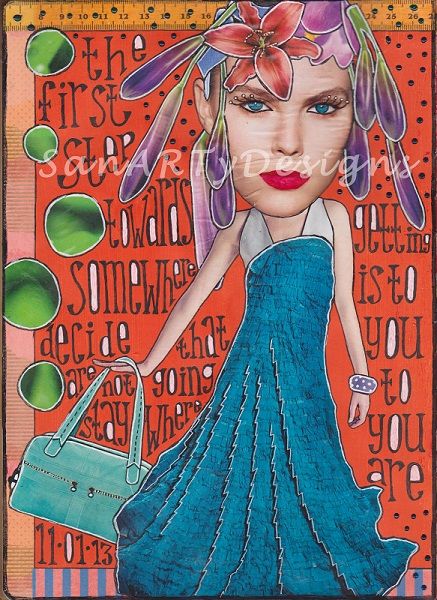 All are A4-sized and made in my Dylusions art journal. Backgrounds are just a layer of acrylic paint. Images are all collages if magazine cutouts.
TFL!
Sandra
dinsdag 8 januari 2013
A new year, a new beginning..although every day can be a new beginning, right?
I wish you all a very happy, healthy and creative 2013 !!!
The year of 2012 ended very sad for me unfortunately. My husband decided to leave me and our three kids two days before Christmas....I'm not gonna tell more about this here on my blog because of the privacy of us all, but it's a fact that I've had a very hard time the last few weeks. And more to come...
Still I feel strong and ready to fight my battle with life. There will be good days and bad days, happy moments and sad moments....I will deal with it as it happens. The love for my kids and my dog, having them around each day, will keep me going.
And of course...my love for art journaling!!!
My art has become a creative therapy more than ever. I still have problems with writing down my thoughts directly on a page. I've always loved to use quotes on my pages and lately it seems like there are so much more quotes that speak to me and capture my thoughts and feelings in a few words.
Here are some pages I created lately. Some quick pages, very simple but powerful. Some pages which took me more time but which I love also....
Right now I create only for me, myself and I...and because I know you would love to see some of those pages I will show them on my blog.
TFL!
Sandra