As I told you in my previous blogpost I did 'some artjournaling' during my holiday in Sweden.
I have found some time to show you, now I took a day off from redecorating my living room. (lol)
Every day I tried to make a simple collaged page in a small journal, dedicated to my holiday. I collaged tickets, brochures, found objects, pieces of packaging, etc. On the back of the page I did some journaling about that specific day. No difficult techniques, nothing special, just something to remember my holiday.
Here are a few pages: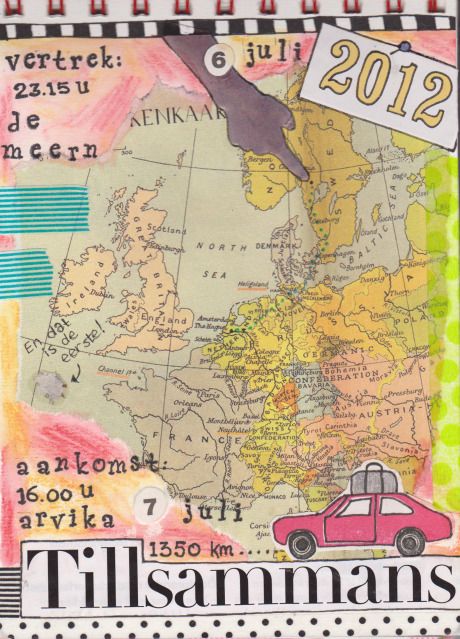 For my Dutch readers: yes, indeed, you will find lots of pieces of the latest issue of Flow!
I also used Swedish words, found 'everywhere':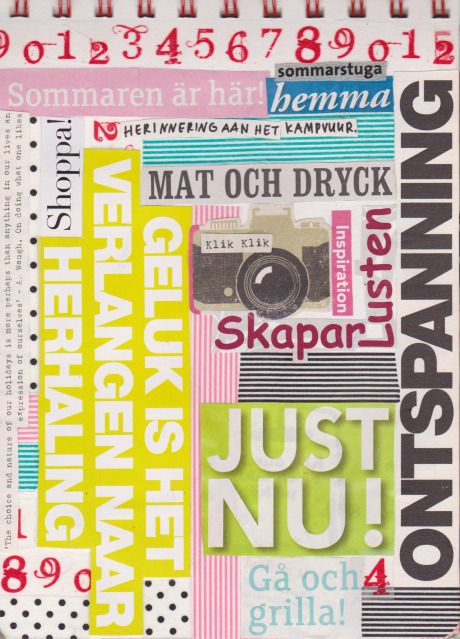 Pieces of the packaging from some of our favorite Swedish food...:
I used a piece of the brochure from the moose-park we visited as a background and glued the ticket on top.
The blue and white striped piece on the bottom of the page is from a typical Swedish ribbon. These ribbons are tied in the trees to mark the territory of the moose hunters. I took off a small piece...
Before I went to Sweden I planned to make more pages with my alter ego 'Ikke'...I only did one....: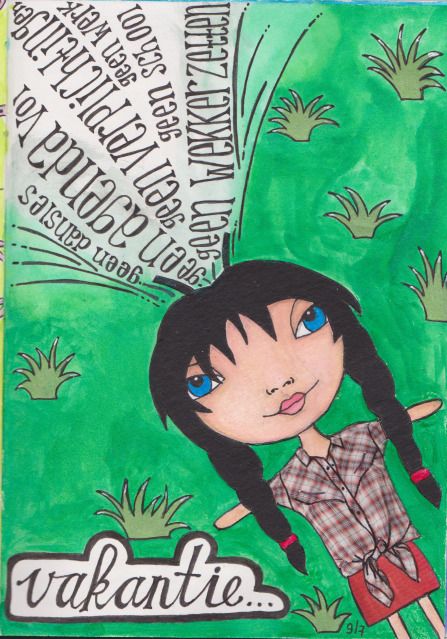 Somehow my inspiration for her was gone....
But I did make some other pages. I didn't bring my A4-journal with me, so I used a tourist brochure, made of heavy paper. I collaged pieces of the Dutch magazine Flow, pieces from Swedish magazines and some tape to cover the pictures and some text in the brochure. I didn't bring my gesso so I used a thin layer of white acrylic paint on top. I colored the next layer with the few Neocolors II I had with me. A layer of stamps, a collaged image and more black and white paint on top.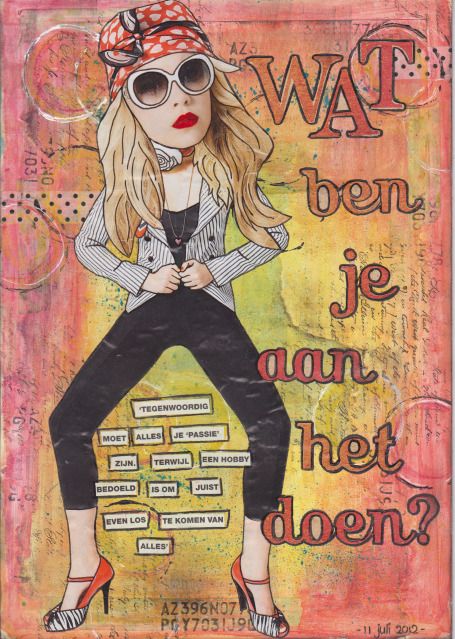 The text comes from the Dutch magazine too.
Another one, with a cute Dutch poem I loved. I stamped the text with tiny alfabet stamps: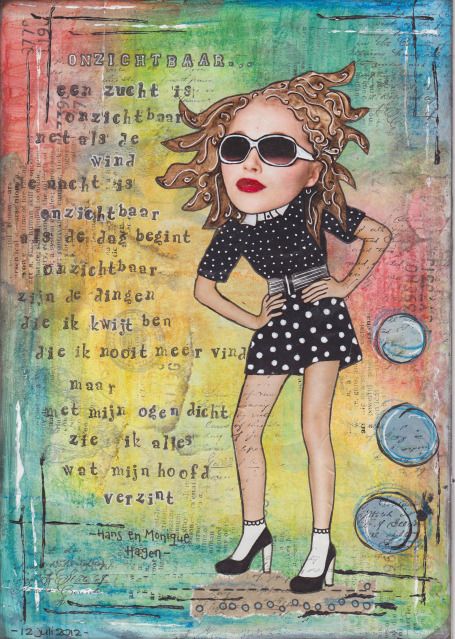 This one is a bit out of my comfort zone. I cut out the image, which was a black and white sketch and colored it with acrylic paint. This time, I wrote down some personal thoughts...Yes, real art journaling! (Instead of quotes, poems or songlyrics, which I use most of the times.)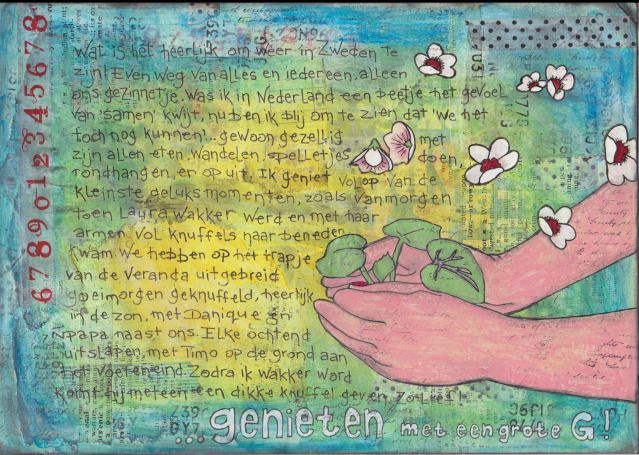 This page inspired me to use more personal thoughts in my art journaling. I always thought that I wasn't able to write something but when I started writing the words came very easily. I have never been a writer. Most of the time my thoughts are hidden in the quotes I use. Time to change that!
I promised you to show you the old books I bought in Sweden. Because this has become a blogpost with a lot of pictures, I'll show my treasures later! I hope you don't mind...
TFL!
Sandra