Although I have been drawing portraits a lot lately, I still try to do some art journaling every day.
Some days I work on collages in my Pixiedust journal (hope to show you another page soon!), some days I just make backgrounds, prepare pages with tape and gesso or cut out pieces from magazines.
I started journaling in an old book which I bought in Sweden during my last summer holiday. The book is about A5-size and over 150 years old! My intentions for this journal was to write more personal things on my pages, instead of the quotes I mostly use. Thoughts, dreams, little conversations etc.
Sometimes I still struggle to get some words on to my pages but I'm learning...
This is my journal:
And here are some pages. I assume you understand the fact that I blurred the text now and then...
Inspired by Dyan Reavely's leaves-stamps. I used an old stamp I found in my stash.
Dylusions ink, acrylic paint, watercolorpencils, Neocolor II, markers. The title letters come from an old stickeralphabet, I believe it was from Doodlebug.
Title: alpabet-stickers.
This page was an experiment with a color I normally don't use: brown!
I experimented with Dylusions inks in brown, yellow and orange. Tried some dripping of the page...
Than I scraped some white and orange acrylic paint with an old creditcard through a stencil.
Somehow I saw some trees appaering..which reminded me of the autumn in Sweden, with all the bright colors in the trees.
Experimenting with Neocolors II, stamps, bubblewrap and cut out hearts...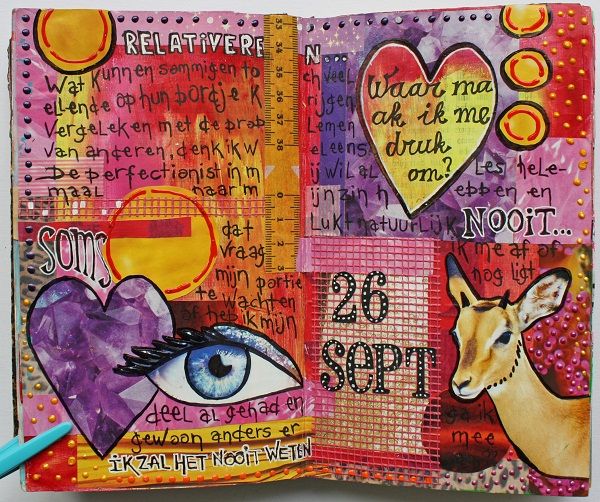 Trying to combine a painted background with random collage...
Another collage...more into my comfort zone...
And another one...
TFL!
Sandra